Commissariat a l'Energie Atomique et aux Energies Alternatives – CEA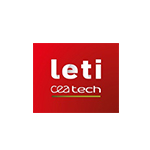 As one of the three advanced research institutes within CEA Tech, Leti serves as a bridge between basic research and industry. His mission is to create value and innovate with industry. The core competencies of Leti bring it in the core of the IoT and High Computing world combining low power solution, nanoelectronics, sensors, connectivity technologies and security. Backed by its portfolio of 2,800 patents, Leti partners with large industrials, SMEs and startups to tailor advanced solutions that strengthen their competitive positions and their high tech image. The Institute has launched 54 startups to date. Its 8,500m² of latest-generation cleanroom space feature 200mm and 300mm wafer processing of micro and nano solutions for applications ranging from space to smart devices. With a staff of more than 1,800 including 250 PhDs and post-docs, Leti is based in Grenoble, France, and has offices in Silicon Valley and Tokyo. This project will benefit from state-of-the-art structures developed in the Leti cleanroom. These structures will include advanced CMOS devices (like NanoWire strucutres), test samples used for the development of NW, samples with TMD materials used for the development of new materials to be included in the next generation of microelectronic devices. In addition, in this project Leti will access to
its advanced nanocharacterization platform to provide complementary characterizations that can be used as benchmark for the new tools under development in CHALLENGES.
ROLE IN THE PROJECT:
Leti will provide state-of-de-art structures and devices in the frame of advanced CMOS developments (like NW) and new materials like TMD under development to prepare the route to the next generation of microelectronic devices. Also using its advanced nanocharacterization platform will provide complementary state-of-the-art characterizations that can be used to benchmark the tools under development in the project CHALLENGES.
Leti will provide to the project partners advanced CMOS structures like NW, test structures used to develop the NW process and TMD materials. Having the access to its advanced nanocharacterization platform, Leti will provide benchmark results that will be used to develop and test the new in-line tool.