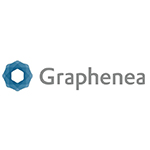 Graphenea, a technology company founded in 2010, is a world leading graphene producer. The 25 employees in Graphenea work on contributing to the successful development of Graphene applications of our customers, in a wide range of sectors and in more than 60 countries in the world. Through research and innovation, we support our customers with our portfolio consisting of: CVD Graphene films, Graphene Field-Effect-Transistors chips (GFETs), Graphene Foundry Services (GFAB) and Graphene Oxides. Graphenea's facilities are located in Spain (San Sebastián) and USA (Boston).
ROLE IN THE PROJECT:
GRAPHENEA will work on the growth, transfer and characterization of graphene films as well as on the manufacture of graphene wafers and graphene devices.