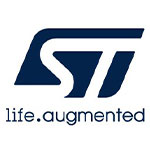 STMicroelectronics Crolles2, France facility is the most advanced manufacturing site of STMicroelectronics, mixing technology R&D activity and production of advanced CMOS and derivative technologies on 200 mm and 300 mm wafers. The ST-Crolles 300mm site, which hosts production and pilot lines, is capable to handle medium volume production and to develop and qualify new disruptive technologies, in the field of Automotive and IoT markets.
STMicroelectronics is a global leader in the semiconductor market, serving customers across the spectrum of sense and power and automotive products and embedded processing solutions. From energy management and savings to trust and data security, from healthcare and wellness to smart consumer devices, in the home, car and office, at work and at play, ST is found everywhere microelectronics make a positive and innovative contribution to people`s life. By getting more from technology to get more from life, ST stands for life augmented.
ROLE IN THE PROJECT:
STMicroelectronics Crolles will manufacture the samples required by the Application Context (AC) #1 (Semiconductor Industry -CMOS based devices), in order to develop the innovative metrology based on the plasmonic amplification of signals.
STMicroelectronics Crolles main expertise to CHALLENGES proposal lays in the possibility to adapt in a fab environment real-time not-destructive technologies for nano-characterization. The company will source production samples of CMOS technology samples to validate the applicability of the plasmonic enhanced characterization techniques to real industrial samples.